Ron Kent (1931-2018)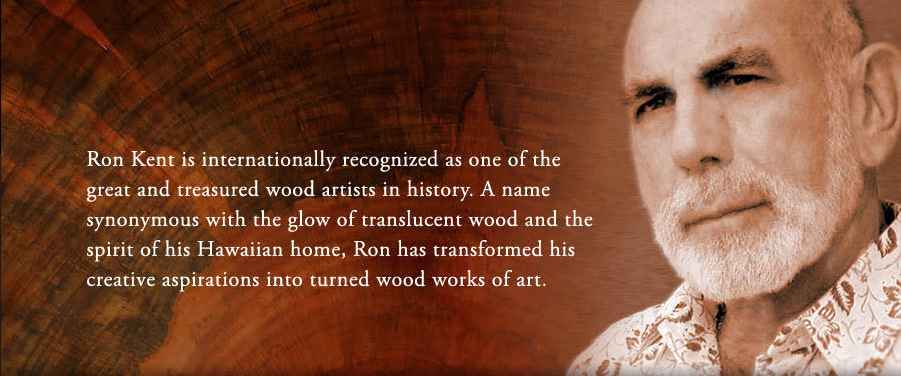 The distinguished American craft artist Ron Kent is part of a second generation of studio wood turners who have gained recognition as fine artists with all the attendant acclaim: museum shows in the U.S. and abroad; gallery exhibitions in New York; newspaper and art magazine reviews and coverage. With wood artists of the 1930s (James Prestini 1908-1993), 1940s (Howard Whipple 1881-1959), and 1950s (Robert Stocksdale 1938-), Ron Kent joins a tradition of artists who turn wood and make it into objects of great beauty that celebrate material and technical mastery.
His inclusion in major museum exhibitions such as "Craft Today: Poetry of the Physical" (1986), "The White House Collection of American Crafts" (1993), and "Expressions in Wood: Masterworks from the Wornick Collection" (1996) has coincided with the rise of respect and recognition for studio wood artists in the 1990s. With ceramic sculpture being elevated to art status during the 1950s and 1960s, followed by the acclaim for fiber art in the 1970s, and the explosion of art glass in the 1980s, artists using wood in traditional ways such as turning are now coming into their own, with Ron Kent a senior figure.
An independent artist who developed in Hawaii outside the mainstream of American craft on the continental mainland, Kent and his achievements have nevertheless been influential and widely exhibited. His chosen material, Norfolk Island pine, is every bit as valid as blown glass or slab-built-and-woodfired clay as an artistic medium but it is his conception, intervention in, and attack on the material that lead to exceptionally beautiful original and innovative vessel forms.
When Kent applies his various oils to bring out grain and color, he is not that different from a potter applying his glaze to porcelain. In both cases, the final touches are essential to the ultimate power and beauty of each piece. Thus, the yellows, golds, and browns join the blacks, oranges, and pinks in a palette of great breadth but one that retrieves color from within the wood rather than merely applying it like a potter. All the same, the oiling and sealant are crucial parts of a process that leads to a finished work of art.
Ron Kent is an American artist who has gained national and international recognition he so richly deserves. The numerous art museums in the U.S. and Europe (including the Musee des Arts Decoratifs, Louvre) which have acquired his turned wood vessels see them as part of two historical traditions: European wood turning and American postwar studio craft.